~ About Ashley R.~
​Why I Write
An amazing, passionate, lyrical, soulful, emotional escape--- this is what writing, photography and videography mean to me. They each encompass thoughts about life, relationships and emotions that flow like stream water through every core of my being. They house every single piece of me. This is how it's always been and how it will always be.
Writing and photography are art forms that allow a person to imagine and dream; floating off into the innermost part of their heart. It's never been hard for me to pour my soul onto a piece of paper. As a young girl, I would read about fairy tales and get lost in the majestic, fanatical aspect of it all. I could feel the rhythm of my writing as I wrote poems, short stories and narratives about love before I could fully comprehend the word.
My writing and photography aren't simply an assignment, professional project or a duty for the world to pick a part. It is my own little piece of sanity and clarity in the world around me. A good book on a rainy day inspires me to be better and to get lost in something the rest of the world cannot see. This is why I write and what writing means to me. Welcome to my site, my life!
Background: I attended Auburn University from 2008-2009, but graduated from the University of Montevallo in December 2012. I acquired a Bachelor of Arts in Mass Communication with a concentration in Journalism and a minor in Public Relations. In August 2017, I received my Master's Degree in Mass Communication and Journalism with a concentration in Public Relations at Kent State University. For serious inquiries related to jobs or content, please contact via Twitter: @PrimandPMedia or email
rogers0990@yahoo.com
.
---
Powered by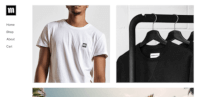 Create your own unique website with customizable templates.